More than 70 Lithuanian schoolchildren are devoting their free time after school not to any kind of entertainment, but to creating visions for the Education Centre in Kaunas. Starting in September, in mid-February they presented 12 projects to experts in teams, which they will continue to develop until mid-May.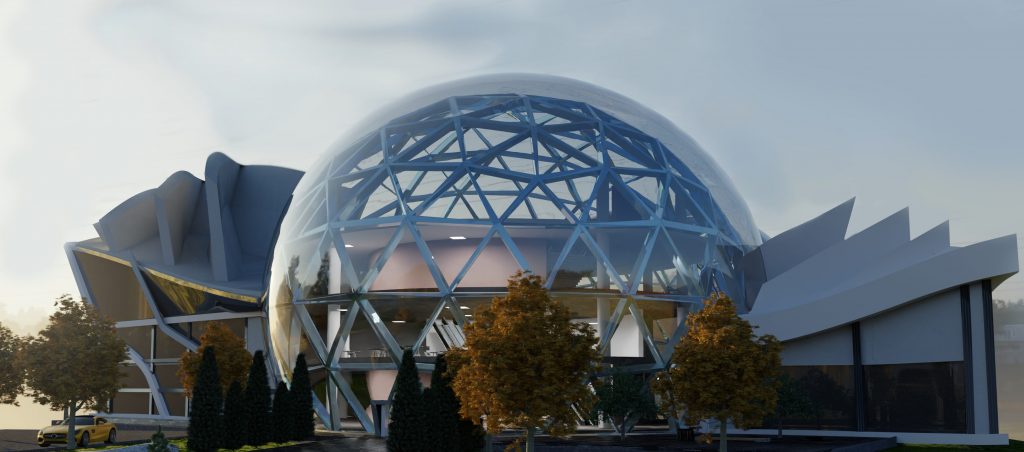 All of them are participating in the project "Design. Engineer. Construct! Lithuania", organized by Kaunas University of Technology Faculty of Civil Engineering and Architecture (KTU FCEA). Students from KTU Engineering Lyceum, Kaunas "Saulės", Vilnius Žemynos, Panevėžys J. Balčikonis Gymnasium, Klaipėda Ąžuolynas and Šiauliai J. Janonis Gymnasiums presented their visions.
This year's theme is "Education Centre for Climate Change and Ecology". The designated venue is the Kaunas Neris Embankment, opposite Kaunas Castle.
The students presented their projects, from names, vision, logo to plans, 3D drawings and other aspects, to KTU FCEA lecturers (Jūratė Kamičaitytė, Ingrida Povilaitienė, Ignacio Villalon Fornes), architecture students, and Giedrė Vaičiulienė, a communication specialist, professional engineers from INHUS Engineering (Rytis Mušauskas, Robertas Padleckis, Mantas Šidarauskas), Staticus (Martynas Pabrėža) and climatologist Silvestras Dikčius, who started the event with a short presentation on the problems of climate change and the possible solutions. Tautvydas Zykevičius, who was included in the KTU almanac of the best architecture students' projects, talked about how students create architectural projects.
At the end of the event, the participants, guests, and experts were able to vote for their favourite team and encourage them. Most points got the team from Panevėžys J. Balčikonis Gymnasium – "Theta".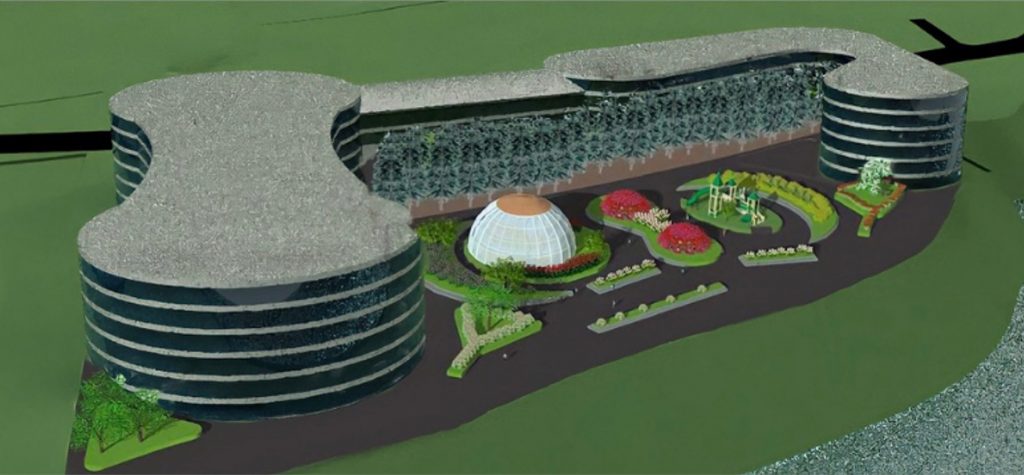 The participants are also looking for eco-friendly solutions for the building
"The participants are not only looking for architectural forms, but they are also trying to come up with their own concepts on how the building could generate green energy, and there are many proposals in this field. There were also suggestions for energy storage from steps, using the river current. Many include plants, but forget or do not emphasise that they can also perform ventilation or other functions. The topic of climate change is so broad that there is always something new to learn," said Dičkus, adding that many teams would still need to think about how visitors would get to the centre and offer alternatives to large car parks.
The climatologist said that exploring such a topic provides students with a lot of complex knowledge and automatically raises their environmental awareness, and it is likely that many will be more likely to think about how their everyday decisions have an impact on climate change.
Listening to the participants' presentations, it was common to hear about the desire to harness wind and solar energy, as well as the flow of water from the nearby Neris. The pupils also had to think about what their visitors would do and what would attract them here. According to Pijus, a student at J. Balčikonis Gymnasium, who is participating in the project for the second time, he and his team decided to create an Education Centre that would blend in with the surrounding nature as naturally as possible, and also plant different types of plants.
"The team's name 'Salpa' means 'to raise the sails' and we want to create an educational space that can educate future generations, inviting them to learn more about issues through interactive spaces and modern educational tools. We also want to create spaces for art exhibitions and displays," said Pijus.
According to the student, who is in his second year with the project, he focuses on 3D design. It was this role that hooked him on the project, and the greatest team success comes from the right division of tasks and responsibilities.
The students are keen to come back and develop their competences
Among the KTU Engineering Lyceum, we will find pupils who are participating in the project for the third time. According to Aritonė Plungienė, the school's vice-director, over the years it has been very noticeable how much the pupils have improved and changed their attitude towards such projects.
"Every six months, the participating teams present their projects to the other students of the Lyceum, so everyone already knows about the project, what to do in it, and we have motivated students coming to us who are already planning their future in the field of architecture or engineering", said Aritonė Plungienė.
She said that the pupils in the project get a taste of what it would be like to work in a business environment, to perform certain tasks that are developed in the business world. Communication, team building and meeting deadlines are common challenges. However, each year the participants' competences in these areas have grown and now the difficulties have significantly decreased. The participants themselves are interested and have personal contact with university students and lecturers.
Experts willing to support and share advice
Several experts in various fields also listened to the participants' presentations; Rytis Mušauskas, the head of the civil engineering company INHUS Engineering, said that he was surprised by the participants' voluntary involvement and their ability not only to plan, but also to master computer programmes.
"I feel first and foremost that the students gathered here are ambitious, willing to go the extra mile, and really have the potential to create. For my part, I would invite them into the field of engineering. I believe that they would be successful in this field. I would also like to wish the teams to be more detail-oriented for the rest of the time, to try to imagine how the visitor should feel in that project and how it differs from other projects. It's about focusing first on the idea and then on its implementation", – said R. Mušauskas.
Before the end of the project, the participants will have meetings with representatives of other companies and experts in their respective fields, who will help them to better understand which engineering solutions are best to apply.
"Design. Engineer. Construct! Lithuania" project has been organised for the third year now, together with partners from Great Britain – "Class of Your Own". In 2020-2021, the teams worked on the House of Music in Kaunas, Lithuania, and in the first year, the project started with the James Bond Hotel in London.