The events of the past year have given us a better understanding of how fragile and vulnerable our daily routines are. The ongoing war in Ukraine, earthquakes in Turkey and Syria, and other disasters force people to leave their homes and seek temporary shelter. Although some refugees can find shelter in the homes of the locals, most refugees settle on temporary emergency settlements, SOS towns. They hope to return home or start a fresh life in another country.
How should such a town look? How should it be built and what should it be made of? Since September, students from Kaunas KTU Engineering Lyceum, Kaunas Saulė, Vilnius Žemyna, Panevėžys Juozas Balčikonis, Klaipėda Ąžuolynas, and Alytus Putinai High Schools have been searching for answers to these and many other questions in the international project "Design. Engineer. Construct! Lithuania" (DEC LT), organised by KTU Faculty of Civil Engineering and Architecture (KTU FCEA) together with partners from Great Britain "Class of Your Own" and "Bentley Systems".
16 teams came to the midterm project presentations held on February 9 and presented their initial ideas to each other and a team of experts from various fields.
Sensitive project in an area with a troubled history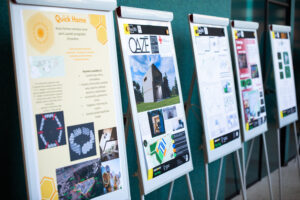 Each year, the organisers choose tasks from real life, and this year's task was dictated by war, earthquakes and other disasters which the world population is currently facing. The teams are building their SOS town on the territory of the former missile base in the Kaunas district.
"The task is difficult. In an area that has a troubled history, we ask participants to create a safe and cosy oasis for people who have survived crises. We ask participants to predict what functions will be in this town, and what services will be provided to the residents. Creating a plan, and a vision means thinking about what will go into the design and how the buildings will function. It is very crucial not to forget that people need to have their own space, a territory where they can feel safe and forget for at least a short while about the misfortunes they have experienced," said Andrius Jurelionis, a Dean of KTU Faculty of Civil Engineering and Architecture.
Halfway through the project, the teams arrived at KTU and presented their solutions, which included posters with environmental analyses, visions, plans of the SOS town, and sketches of buildings to each other and a large team of experts. Among the ideas presented by high school students, were solutions resembling beehives or quickly assembled wooden structures. Some teams set out to receive tens of thousands of people, while others limited themselves to providing a comfortable life for a few hundred refugees. Most of them also mentioned the importance of relaxation opportunities in their projects. As a result, walking paths, museums, and active leisure facilities were installed.
Advised to put people first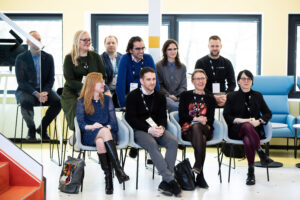 The experts were most surprised by the innovative approach of young people and the attention paid to human rights, human needs, and religious and cultural differences. However, they encouraged the young creators to pay attention to the psychological state of the visitors.
"The first thing I would advise students is to always put people first. Buildings can be made of the latest materials, and they can be the most aesthetically pleasing, but you always have to ask yourself – who are you building for? How can we empathise with others? Using the term "refugee" makes people seem like another species altogether. But they are the same people, they have needs, and feelings and that should not be forgotten," said Alison Watson, founder of the organisation "Class of your Own" from the United Kingdom.
As part of her vision for the SOS towns, she invited young developers to improve living spaces and give them personality through their creations.
Representatives of the Red Cross shared their personal experiences with the participants. They urged them to remember that not only families but also unaccompanied minors come to such towns, and there may be many disabled or ill people. People of different cultures, with different habits and traditions, should not be forgotten. The list of necessary facilities and services in such a project is certainly not short.
Teamwork is the greatest challenge for participants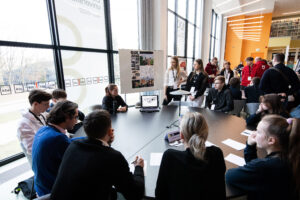 Aistė and Patricija, students of the KTU Engineering Lyceum have been participating in the DEC LT project for the third year and have previously completed the tasks of the education centre and the music house. They claim that although this year's project requires much broader thinking, in addition to the traditional efforts to create a vision, plans and visualisations, the biggest challenge remains teamwork and time management.
"There are always people who think that the implementation of the idea will not work out. There are also disagreements, but somehow, we resolve them diplomatically. In addition to understanding the basics of architecture and civil engineering, this project developed our communication skills. We keep coming back to it because such tasks encourage us to think more broadly and allow us to improve various skills. We can feel the progress from the first attempt," said Aistė and Patricija.
This time, KTU FCEA architecture programme students, teachers Ingrida Povilaitienė, Ignacio Villalón Fornés, Jūratė Kamičaitytė, KTU Communications and Marketing Director Danas Viluckas, partners from "Class of Your Own" Alison Watson and Daniel McDonagh, as well as Lithuanian Red Cross representatives Mantas Kazlauskas and Vytautė Stankevičienė were providing advice to the participants. Mantas Šidarauskas, a representative of INHUS Engineering and Martynas Pabrėža from Staticus, and other experts also gave consultations to the teams.
The project ends in May. Until then, the teams have to take into account the comments of experts and refine the architectural and engineering parts of the building.
Video of the event: https://youtu.be/lgtrnssZ2WY