How many parks, fountains and homes put to Kaunas streets? About 50 people from 10 years to 90 old was trying to design their own Kaunas city center on the Restoration of the State Day, which was celebrated on Sunday, February 16.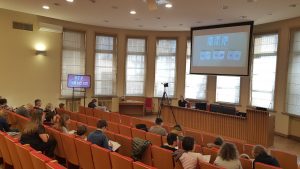 Kaunas University of Technology (KTU) invited Kaunas residents and city guests to play an interactive game focusing on interwar Kaunas. The board game, adapted to Kaunas from Welcome to… was created in cooperation with the designer Benoit Turpin and the board game enterprise Blue Cocker.
"This game is more strategy, thinking about streets and what will be more profitable after game," – one player whispered and looked back to playing sheet and started to think where to put new house.
The game transported its players to the years 1918–1939. This was the time when Kaunas was a temporary capital of Lithuania. Even the game was played in modernist architecture building, completed in 1935.
Andrius Jurelionis, the Dean of the Faculty of Civil Engineering and Architecture believes that playing games is a perfect way to get in touch with history.
"Thanks to designer Benoit Turpin, Welcome to… your perfect home was transformed into Welcome to Kaunas. The game transported us to the streets of the interwar Kaunas, and the players had the right to decide where they want to build fountains, where to put fences, which areas to build-up and so on. We are happy, that this event got attention from all age groups. We got families, board games enthusiasts and even older residents", says Jurelionis.
Lithuania was a new republic and the need to saturate the demand for infrastructure, private and public spaces and buildings resulted in the rapid growth of the city. It is estimated that more than 12 thousand buildings were erected during this period in Kaunas. The unique architectural style rendered Kaunas the contemporary capital look; the city is famous for its unique modernist architecture until today.
The activity was initiated by KTU Faculty of Civil Engineering and Architecture, which is celebrating the 80th jubilee this year, but which history dates back to 1920 when Higher Courses were established. By inviting to play the board game, the Faculty was offering the citizens and city guests a chance to act as an architect or a civil engineer while designing the temporary capital of Lithuania.
The news that the game will be adapted for Kaunas on the occasion of one of the most important days for Lithuania, was very exciting for its creators.
"When I was creating the game Welcome to…, I didn't expect it would be played in all Europe and around the globe. However, now it becomes a part of such an important event as the celebration of the Restoration of the State Day in Lithuania. I am very pleasantly surprised. I hope you will have a good time while playing", said Benoit Turpin, the designer of the original board game.