Liveta Šablinskaitė, a fourth-year civil engineering student, says that if she could go back to her first year, she would definitely be even more ambitious about taking part in international exchange programme. During her studies she was studying in Malta and Cyprus, also completed a traineeship abroad.
We talked with Liveta about her biggest fears before embarking on such trips, the differences between studies and other experiences.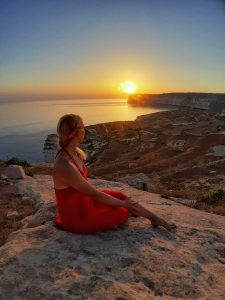 – You have taken advantage of various international exchange and study opportunities, and finally decided to do your compulsory traineeship with a foreign company. What made you get so actively involved in Erasmus+ programmes?
– In my first year at the university I had the opportunity to participate in an Erasmus+ exchange in Poland, organised by the KTU Student Association. For the first time I had a lot of fears, both because of my language skills and my personal qualities, not knowing what an exchange is and what the benefits are. However, it only took one trip to convince me that all the participants come together with the same fears and hesitations, and that Erasmus+ is a place where you get to meet all kinds of people: start-up founders, artists, engineers, students, etc. And from all these people you get experience and ideas. Then I went to Croatia and Macedonia with various programmes. So, when the announcements about KTU's opportunity to take part in part-time studies came out, I didn't even hesitate and filled in the application form.
– Which countries have you visited and how is life and studying there are different?
– I did my partial studies in Malta and Cyprus. These two countries have a lot of similarities, but are very different from Lithuania. One of the main things that took me a long time to get used to was the helpfulness of the people, the constant willingness to communicate. No matter where you are: on the beach, in a shop or at a bus stop, there are always people with whom you can have at least a 15-minute conversation. People in southern countries are more relaxed and less rushed. The pace of life seems much slower than in Lithuania.
As far as studies are concerned, the University of Malta differs from KTU in the composition of the module assessments. In Malta, each module consists of a coursework and a final exam. The coursework is based on internships, field trips. For example, in the lecture on the reconstruction of buildings, we had several trips to Ricasoli Fort, where we did concrete strength tests, analyses and wrote a coursework on the current situation of the fort and what reconstruction methods we could apply.
I went to Frederick University in Cyprus to study during the pandemic, so all the lectures were held remotely. Actually, the composition of the modules and the types of teaching at Frederick University and KTU are very similar, one of the biggest differences was the order of the exam session. During the exams, it is compulsory to turn on two cameras: one that is aimed at the student and one that shows what your working environment looks like, each student is connected to a system that blocks any other activity on the computer.
– How did you manage to fit into the academic community in the foreign country?
– The first few weeks in Malta were quite difficult as I had to get used to lectures being taught in a different language, a different system and different people. However, as time went on, I started to interact more with the students in my group, who introduced me not only to university life, but also to the peculiarities of their country.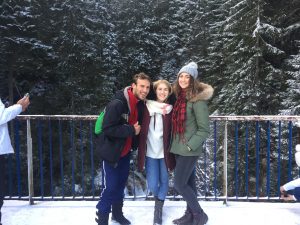 When I went on my second part-time course in Cyprus, it was a lot easier because I knew what to expect and that I shouldn't be afraid to ask questions and be curious. That this is a great opportunity to develop in your professional field. I tried to participate as much as possible in the lectures and to take a broader interest in the material presented. I had amazing lecturers who were happy to stay after the lecture to answer any questions I had, who were always asking how I was getting on in the country, if everything was good and clear.
– Did your preconceptions about Erasmus studies change after experiencing it in person? Have you managed to break any stereotypes?
– I didn't have any preconceived ideas myself, I just wanted to take advantage of all the opportunities that the university offers. Of course, there were a lot of thoughts about what if I don't have friends, what if I'm all alone in a strange country, or what if I don't understand the subjects or if it's just too hard. I got more pressure from people around me, with all kinds of doubts and stories. Like people coming back from their studies with debts, and why I'm going to make my life difficult for nothing, because it's much more convenient to finish your studies in your own country and then you can go wherever you want. I can agree that it is more convenient not to try, because you do not face all those difficulties, but you do not improve by not trying.
I think that if you really know what you want out of your studies abroad and try to get the most out of it, you will never come back with debts. The fear of not having friends is often just in the back of your mind, and once you're away you're constantly meeting new people in academia, at Erasmus+ student meetings, or just by leaving your home.
– Preparing to go on an Erasmus course can sometimes be daunting, how did you manage to stay motivated?
– To be honest there were times when I wanted to cancel, especially during the pandemic. I had to postpone my studies in Cyprus for another semester, then the borders started to close and my flights were cancelled three times. Signing of documents was delayed . I had to wait months for answers when looking for an internship, and even after getting a confirmation for a job in one company, you get a letter a few days later saying that due to the pandemic, students from other countries are not accepted.
But each time, I motivated myself that maybe I would never get the chance again, and if I gave up now, I would spend the rest of my time regretting and creating scenarios of how things could have been.
– Was it difficult to find a company where you did your compulsory traineeship? Are companies willing to take students?
– My part-time experience in Malta was very helpful in my search for an internship, as I already had established contacts with the university community. The hardest part was filling in the necessary paperwork and ensuring that the internship met the requirements for my specialisation, as these often vary abroad.
I took part in the internship with two students from Malta, one from Italy and one from Switzerland, so the companies are keen to take motivated students.
– How have you benefited from an internship in a foreign company?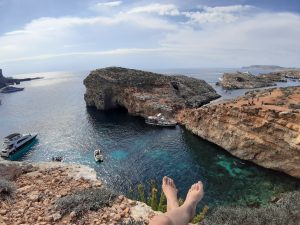 – First of all, I had the opportunity to get to know the differences in my specialisation in another country, problems that I did not encounter in Lithuania. For example, I had the opportunity to take part in two projects for the reconstruction of water reservoirs, using self-healing concrete and incorporating sensors that send information about the parameters of the structure when it is filled with water. I was also involved in the reconstruction of a wildlife rehabilitation centre, where problems such as the supply of seawater to dolphins were addressed. Internships abroad also help to develop vocabulary, communication and cooperation skills. I think all these experiences help me to expand my opportunities in the labour market.
– Why would you recommend other students to do a compulsory Erasmus+ traineeship?
– As I said before, Erasmus+ is one of the few opportunities that come along in life. It's no secret that students are often offered unpaid traineeships, so balancing work and daily demands can be quite a challenge. One of the biggest advantages of the programme is the scholarship provided by the university. Even if you get an unpaid traineeship abroad, you don't have to worry about how to survive for a few months and you can concentrate on your traineeship and still have free time to get to know the country and the new people.
I am currently a final year student and I can safely say that the Erasmus experience is the most memorable of my studies and if I had the chance to go back to my first year, I would do it again without any doubt.