For the second year in a row, Kaunas University of Technology (KTU) invited teams from secondary schools from across Lithuania to participate in the Design. Engineer. Construct! Lithuania project. Over 60 participants from four schools responded to the challenge to create a Music House in Kaunas.
In universities, challenge-based, problem-based or project-based teaching become more and more common. Students work in teams to solve real-life problems during their studies or look for different solutions in real situations, apply their knowledge, and constantly consult with specialists. The team of KTU Faculty of Civil Engineering and Architecture (KTU FCEA) teachers transferred the project-based learning principles to design a challenge aimed at secondary school students.
In 2021, the challenge Design. Engineer. Construct! Lithuania (DEC LT) was held for the second year in a row. Over 60 participants from 4 schools joined in to create their dream Music House in Kaunas. Last year, students from three schools built their dream hotels in London.
During all year, the participants from Kaunas "Saulė", Vilnius "Žemyna", Panevėžys J. Balčikonis high schools and KTU Engineering Lyceum were solving different tasks related to constructing a Music House in Kaunas. At the end of the year, the teams presented their projects to an expert panel, which evaluated them for different achievements. Among the experts were KTU teachers and students and the professionals from various fields: architects Gintaras Balčytis, Egidijus Kasakaitis, Lithuanian Broadcasting Service OPUS specialists, representatives of engineering and other companies.
From logo to 3D model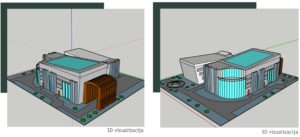 "During the challenge, we were constantly working on practical tasks: we had to draw and design various objects, so we gained endless useful experience in different fields – from designing the name and logo of the building to its 2D and 3D visualisations", said Matas Binderis, the student of KTU Engineering Lyceum, who has been participating in DEC LT for two years in a row.
His team "Musicada" received two expert awards and was chosen as the team behind the best project by the students themselves.
"We want to encourage students to connect their studies with reality, to look for relationships between the environment, history, experience and the object they are creating. During the project, students worked in teams, and the division of workload and cooperation in solving the set tasks was encouraged. The project aims to not only teach the students to collect and use the necessary information but also to take responsibility, have their opinion and defend it, as well as link theoretical knowledge with practical work", said Laura Jankauskaitė-Jurevičienė, DEC LT project coordinator, KTU FCEA lecturer.
During the school year, over 15 different meetings and remote events took place.
Different nominations for different teams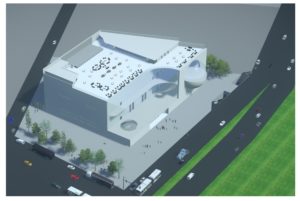 The year-long work of the teams was evaluated in early June by the experts' panel, which selected the best projects in six different fields. For the expert evaluation, the participants submitted video presentations, project descriptions and posters of their projects.
Summarising the results of the 15 experts, Panevėžys J. Balčikonis team K.N.B won the Best Construction and Engineering Solutions nomination. The KTU Engineering Lyceum team Musicada received Best Layout and Best Presentation Record nominations. Kaunas "Saulė" high school team VIVACE was nominated for the Best Idea and Best 3D Drawing (VIVACE prepared a 3D drawing with the professional building information modelling software "OpenBuildings Designer"). During the project's final event, the participants themselves voted for the Musicada team to receive the Voice of the Nation nomination.
KTU students were also involved
Due to its long-term duration and the pandemic restrictions in Lithuania, the Design. Engineer. Construct! Lithuania challenge required patience and devotion from all its participants. All the events – more than 15 sessions in total – took place remotely. Also, most of the activities and classes were held in the late afternoons.
The DEC LT project is interdisciplinary, closely related to the fields of architecture and civil engineering, as the students' main task is to design a building in a given area and select the most suitable engineering and construction solutions. Interdisciplinarity is an important feature of the KTU Architecture study programme, where various teaching and learning methods are also applied, and design tasks are fulfilled by combining architectural and engineering fields. Different modules of the study programme use project-based, design-based learning, problem-solving, challenge-based methods to achieve different goals.
"An important part of learning for students is not only to be able to design, present and defend their building project, but also to be able to transfer their knowledge to others. That's why our students take part in the DEC LT project as consultants", says Jankauskaitė-Jurevičienė.
DEC LT will continue next year. Šiauliai J. Janonis and Klaipėda Ąžuolynas high schools are planning to join the participants of the challenge.
The partners this year's Design. Engineer. Construct! Lithuania: Class of Your Own, Bentley Systems, KTU Smart Cities and Infrastructure Center, LRT OPUS.
More on the project: https://csci.ktu.edu/dec-lt/